A New Important Discovery
In the last weeks I have been very busy working on a new study, and I can now state that I have probably discovered a new Law of the Market.
Thanks to this important Law, I want to share with you a few dates that should be very significant in the S&P500, during the 2019.
March 6-7, 2019
May 30/June 3, 2019
July 20, 2019
November 16, 2019
Over the year, we see together how these dates will work out. I am very exited about it; we do not have to expect to see just change in trends during these dates. They should be expression of energy, creating energy that can create inversion, or strong acceleration to new trends. We will see.
2018/2019 Trading Performance
(Updated to October 16, 2019)
Here is the complete performance of our strategy with: S&P500; Crude Oil; Gold; Soybeans; Corn; Wheat; 30 Years US T-Bonds; Live Cattle
S&P500 – E-mini S&P 500 Futures
Here is our S&P500 2018 Trading Performance, which is the result of following the precise strategy we provide in the Daily Report Service.
Wonderful work, above all during the 2019.
CRUDE OIL – WTI Futures
At the moment, Crude Oil is the best Market we trade, because it is not sideways as many other commodities, and I can say we have found the Alpha with it. We need patience, and be aggressive when we have the right signal. We started keeping the Trades Record of Crude Oil in July 2018, and the results have been impressive, as you can see:
30-Year US T-Bonds Futures
Our 2018 strategy with T-Bonds Futures did not produce a great performance. I cannot hide it just because the return was not good! Reason: we were mainly trading with LONG positions, but T-Bonds were definitely in a downtrend.
 Since 2016, we are largely in profit with T-Bonds: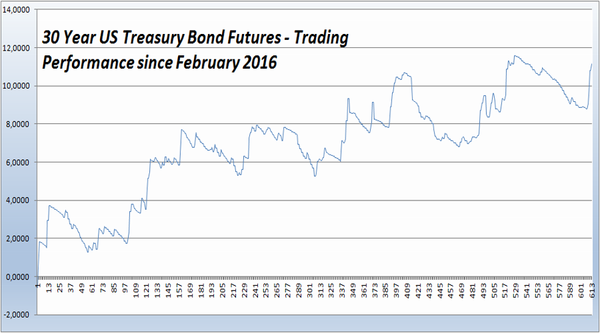 SOYBEANS Futures
Soybeans Market is the King, as Gann used to call it. I believe Soybeans (and grains in general) are in a very boring pattern in the last times, and it is not easy to make profits with them. We used to make great profits, years ago, but times have evidently changed. When this Future was above 1000, everything was easier. Why am I telling this? Am I trying to justify the 2018 was a bad year for our strategy? Not at all! It could be better, yes, but our discipline did again a great work!
You can appreciate the uptrend of our Soybeans Futures trading performance. We love this Market, but I admit I loved it more a few years ago. Anyway, we closed the year with a profit of 76 points per contract, while the January 2018 Futures Contract closed the year 100 points down!!! Ok, I do not make 200 points per year anymore, but I can say I am still satisfied.
CORN Futures
Corn is a bit (in my opinion) very boring. In the last 4 years, it remained in a sideways pattern, and our profits reduced the pace. We have not made big profits with it, in the end, but I am not really into it, as long as we do not get of this damend sideways pattern (consolidating above 400 :P)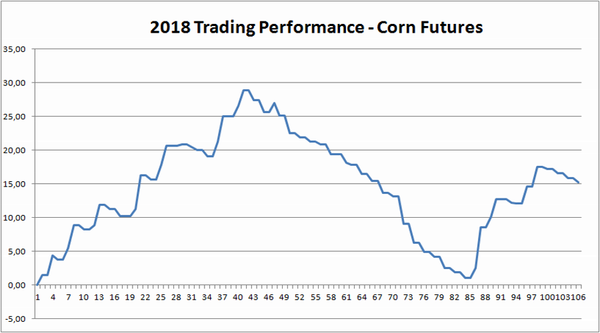 Corn closed the 2018 (March 2019 Futures Contract) with 18 points down, while we are in profit (even if a little profit).
WHEAT Futures
This is another market with few opportunities (the last months have been horribly sideways). However, our 2018 has been a surprise, because we nailed several good trades with very few losses. Again, the strategy made the right difference: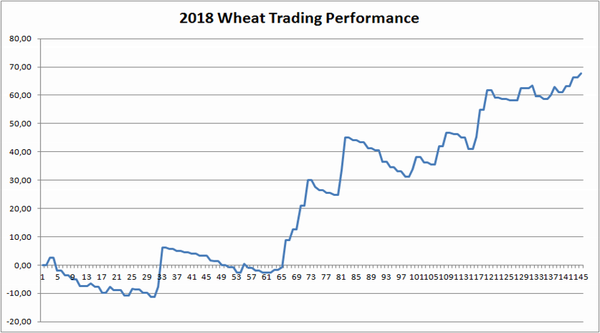 Using the 2019 March Contract, we see that Wheat had a positive performance during 2018, with a gain of 22 points per contract. However, we have a profit of 68 points. Not bad, isn't it?
LIVE CATTLE Futures
Our Performance during 2018 took a while to take off, and during the year we had to change our trading approach a few times, but then profits came: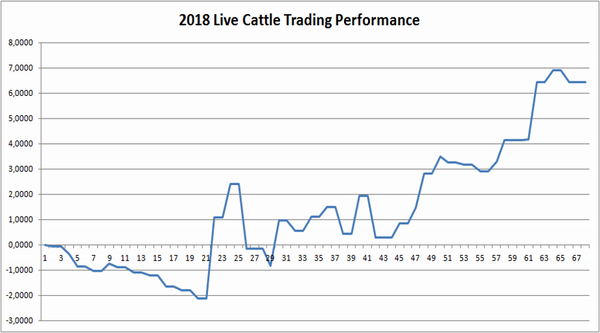 We had a performance of +6.5 points per contract, in line with the gain that Live Cattle produced during the 2018.
GOLD Futures
Gold has lost about 55 points per contract during 2018, but we had a profit of 57 points, beating again the Market. I think Gold is in a good position for higher levels, we will see if I am right: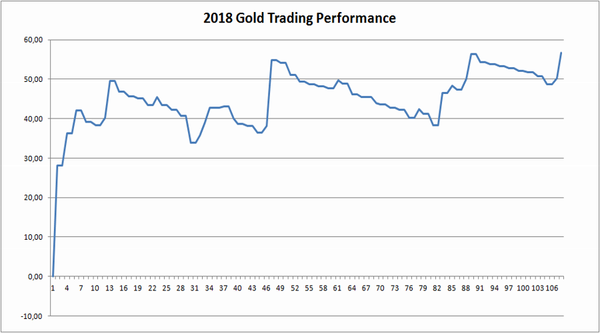 Our Daily & Weekly Report Services have still some seats available. These seats are waiting for you. We share honestly our Trading Performance, no lies here, otherwise I would have shown better results with Corn or with T-Bonds, do not you think?
If you want to see a few examples of our Reports, you can download the PDF file of the Daily Reports and the Weekly Report (which is included in the Daily Report Service).
2019 ANNUAL BULLETINS
We also provide several Annual Bulletins. You can download the original 2018 Bulletins and Updates, so you can judge by yourself our work. The Updates are VERY IMPORTANT! With the Updates we create the strategy to follow the forecast!
Any question you have, feel free to contact me!